12 Days of Christmas Prize Draw - 2017 - NOW CLOSED!
Winners:
Day 1 - Trudy Dupont, Newbury
Day 2 - James Roe,
Day 3 - Rennene Hartland, Nottingham
Day 4 - Sheila Reeves,
Day 5 – Yvonne Yeoman, West Yorkshire
Day 6 - Bob Anthony, Wiltshire
Day 7 - Natalie Lee, Hampshire
Day 8 - Fiona King,
Day 9 - Olivia Wicks,
Day 10 - Mick Stewart,
Day 11 - Lara Springer,
This Christmas competition is open to all website visitors who reside within the United Kingdom.Every working day from the 4th to the 19th December ETI will be giving away a collection of prizes to those customers who enter and win our prize draw.
These great prizes include everything you need to cook up the perfect family Christmas! (full contents listed below)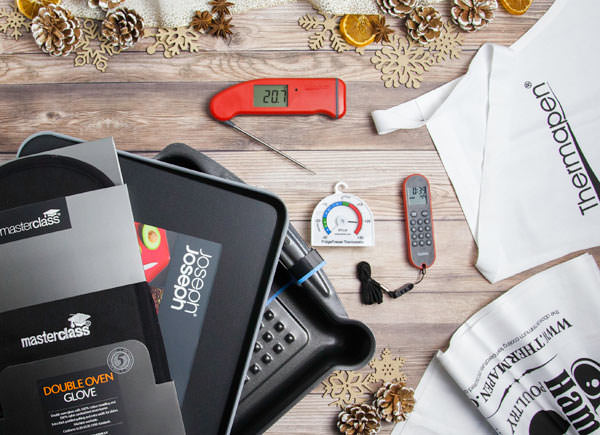 To enter the draw simply click THIS LINK and answer a simple question. You will then be automatically entered into the draw. The questions change daily, throughout the "12 Days of Christmas" so you are free to enter an answer each day!
Entries are only allowed during the week, so you may enter on the 4th, 5th, 6th, 7th, 8th, 11th, 12th, 13th, 14th, 15th, 18th & 19th of December - when the draw closes. Winners will be notified daily and listed below, and your prize shipped off to you. Winners must reside with the United Kingdom.
Each prize contains:


1 x Thermapen 4
1 x TimeStick
1 x F/F Dial Thermometer
1 x Magnetic Meat Temperature Guide
1 x Silicone Spatula
1 x Silicone brush
1 x Silicone Trivet/Pot Stand
1 x Thermapen Apron
1 x Thermapen T-Towel
1 x Lakeland large Roasting Tin
1 x Masterclass Oven Glove
1 x Joseph Joseph Cut and Carve Board
Good luck with your entries.