The Great British BBQ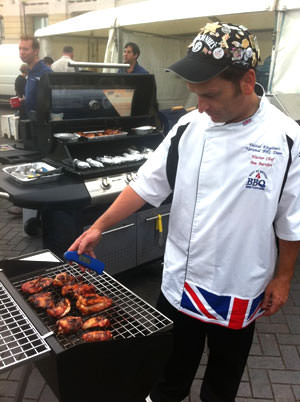 No-one wants to give their family and friends a dodgy tum, so take a tip from the top and make the SuperFast Thermapen your must-have BBQ accessory.
The food thermometer has an easy to read digital display that gives an accurate temperature reading in under three seconds.
BBQ Champion and Celebrity Chef Ben Bartlett recommends using a Thermapen® to make sure that BBQ'd meat is cooked safely and succulently.
Ben says, "There's nothing worse than biting into a burnt burger or chicken drumstick that's raw in the middle; it's a tummy upset waiting to happen.
"For meat to be properly cooked, and for all bacteria to be killed, the temperature needs to be at 75°C or above. Of course the tricky bit is to make sure that your food is cooked evenly and not completely blackened or dried out.
"This is where the Thermapen comes into its own. It's an easy to use must-have gadget for all BBQ chefs, taking the guess-work out of cooking meat and poultry safely.
"My tip is to reduce the heat of your barbeque and cook food more slowly, checking it regularly with the Thermapen to ensure that the core temperature is hot enough.
"Slower cooking maximises the flavour, keeps the food succulent and allows you to enjoy a more relaxed BBQ with your friends and family.
"Importantly though, by using a Thermapen you can be more confident that you are not serving salmonella along with the sausages."