Great BBQ cooks and the Thermapen®...
The Barbecue Thermapen® has a huge following among the BBQ fraternity in the USA. Where it is used widely by both competition and home barbecue cooks. Championship BBQ is already a major phenomenon in the USA and it's something that's spreading to the UK - fast. So here are a few Great British BBQ chefs who love the Thermapen®!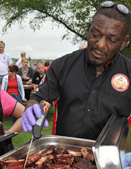 Dr Sweetsmoke: AKA Al Harris, has appeared on numerous TV programmes and currently holds several titles including British BBQ Championship Grand Champion. Dr Sweetsmoke has a one of a kind custom built mobile bbq pit nown as "the meat beast", this cooker gently roasts using natural charcoal and hardwoods for that real southern style pit bar-b-que flavour. Originally from Louisiana Al now lives in Wiltshire. Winner of ITV1 TV Show "There's No Taste Like Home " he recently cooked for the ETI Jubilee BBQ held here at our Worthing offices, where he was filmed for a forthcoming TV appearance. Multi award winning Dr Sweetsmoke says this about the Thermapen.
"Food handling and safety has always been number one above all concerns in my book and holding on to our five star rating is easily accomplished with the Thermapen. In fact each team member has one at the ready at any given time. We have trusted the reliability and craftsmanship of this instrument with our food for over ten years." www.drsweetsmoke.com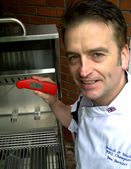 Barbecue Ben: Barbecue champion, celebrity BBQ chef and President of the British BBQ Team Ben Bartlett says that the SuperFast Thermapen™ is an essential piece of kit for those who are serious about barbecuing. For maximum meaty flavour and succulence he recommends slowing down the BBQ, "My tip is to reduce the heat of your barbeque and cook food more slowly, checking it regularly with the Thermapen to ensure that the core temperature is hot enough.
"For meat to be properly cooked, and for all bacteria to be killed, the temperature needs to be at 75°C or above. Of course the tricky bit is to make sure that your food is cooked evenly and not completely blackened or dried out".
"This is where the Thermapen comes into its own. It's an easy to use must-have gadget for all BBQ chefs, taking the guess-work out of cooking meat and poultry safely". www.bbqben.co.uk
Thermapen Professional Thermometer - perfect for cooking turkey, poultry, meat and fish!Patented, automatic 360° rotational display Readable display in left or right hand Auto intelligent backlight Waterproof to IP66/67 Improved battery life of 3000 hours Display configurable in °C or °F

in stock

The Thermapen® Classic thermometer is fast, accurate and used by chefs and BBQ enthusiasts worldwide. SuperFast – reaches temperature in just 3 seconds Over 50 % faster than traditional probes FREE traceable certificate of calibration Simple & lightweight to use

in stock

ThermaQ thermometer kit with two channel type K thermocouple inputsspecifically designed for BBQ enthusiasts audible alarm with variable volume control built in backlight for low light readings waterproof housing offers IP67 protection customised high/low alarm facility range of probes available 2 year guarantee ThermaQ only option available -...

in production!