Baking Greats - great bakers and the Thermapen®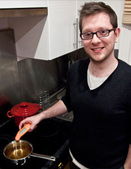 Edd Kimber: The talented 2010 winner of BBC's The Great British Bake Off is a big fan of the SuperFast Thermapen®. Edd, who has worked at Raymond Blanc's Le Manoir and who's first cookbook The Boy Who Bakes was published in September 2011, says...
"The Thermapen is a really handy gadget for all chefs whether they use it for everyday baking, to make sure that cakes and sponges are done without being dried out, or for something a little more technically demanding.
"I totally rely on my Thermapen because it's absolutely crucial that I get an accurate and speedy temperature reading for many of the recipes that I work with. My speciality is Macarons, which are beautiful but notoriously tricky treats to make; relying on cooked sugar syrup where the temperature must be exact. The Thermapen is perfect for baking these deliciously delicate delights."
To find out more about Edd, CLICK HERE!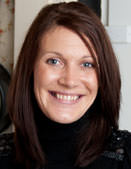 Ruth Clemens: food writer, blogger, chef and Runner up on The Great British Bake-off 2010 says...
"There's one bit of kit in the kitchen I use time and time again and it's a Superfast Thermapen digital thermometer. I ended up with one of these after smashing three of my regular thermometers."
"The Superfast Thermapen retails at £57.60 and really are a great bit of kit to have, I love mine, it has definitely been worth the investment."
"Thermometers are really useful for all sorts of recipes – jam making, sugar syrups and tempering chocolate if you're feeling adventurous."
To find out more about Ruth, CLICK HERE! Twitter: @thepinkwhisk
Thermapen Professional Thermometer - perfect for cooking turkey, poultry, meat and fish!Patented, automatic 360° rotational display Readable display in left or right hand Auto intelligent backlight Waterproof to IP66/67 Improved battery life of 3000 hours Display configurable in °C or °F

in stock

The Thermapen® Classic thermometer is fast, accurate and used by chefs and BBQ enthusiasts worldwide. SuperFast – reaches temperature in just 3 seconds Over 50 % faster than traditional probes FREE traceable certificate of calibration Simple & lightweight to use

in stock

SuperFast Thermapen® 3 Discounted Colours! temperature readings in just 3 seconds! Biomaster casing reduces bacterial growth °C to °F reconfigurable water-resistant case °C to °F reconfigurable 1.0 or 0.1 °F/°C resolution *No further discounts apply to these prices

in stock