Will Your Turkey Get an Oooh or an Aahh This Christmas?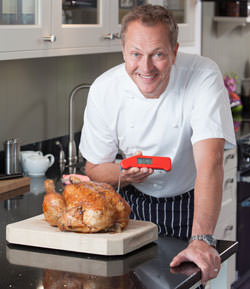 What's your Christmas turkey going to look like this year? No doubt it will be succulent and bronzed to perfection.
However, for many home chefs the proud moment when the turkey arrives at the table can gain more sympathetic "Aahhs" than impressed "Ooohs".
In trying to ensure their bird is properly cooked the Christmas centrepiece can be left with legs hanging off and more knife wounds to the breast than an episode of CSI.
ETI have been working with Celebrity Chef Nick Nairn to reassure home chefs and help them to cook the most delicious Christmas turkey ever, with the minimum of fuss and worry.
Even the most nervous of home cooks no longer needs to keep stabbing the breast with a knife, or think about hacking the legs off, to ensure that they're not going to poison their family with undercooked poultry.
By using the fine probe of a Thermapen food thermometer they can know instantly, and with minimal damage to the turkey, whether the breast meat is cooking too fast or the legs need a bit longer, and adjust the temperature accordingly – or use foil to cover the breast.
Well known television chef Nick Nairn agrees, he routinely uses our Thermapen at his cookery school in Aberdeen;
"Thermapens totally take the guesswork out of knowing when your Christmas turkey is ready".
"The way to check is by inserting the Thermapen into the centre of the thickest part of the breast and also the thickest part of the thigh. Both should give a reading of 75°C or above".
"The skill is finding the lowest temperature you can - if you poke the Thermapen right through and it hits the hot pan, it will show a high temperature, so move it up and down to find the lowest reading at the centre of the meat".
"Once it's hit the right temperature, take it out and leave the bird to rest, loosely covered with foil. The temperature actually rises when it's resting but as long as you've hit that at the coolest point you're fine".
For Nick's tips on cooking the Christmas turkey and many other great Christmas recipe ideas go here.
The ETI SuperFast Thermapen® gives an accurate reading in less than 3 seconds and is available here It makes a superb Christmas gift for the chef of the house.