The ThermaQ WiFi BBQ thermometer kit, designed for serious barbecue cooks, is a two channel thermocouple WiFi BBQ Thermometer and logger with 2 external probe sockets. Temperature range -100 to 1372 °C, with a resolution of 0.1 °C/°F to 999.9°C thereafter 1°C.
The ThermaQ WiFi kit includes probes, silicone boot and tripod. The ThermaQ WiFi thermometer only is sold exclusive of probes. Please ensure you select the option you require from the drop-down above.
The ThermaQ WiFi thermometer kit includes:
299-121 ThermaQ WiFi thermometer
133-041 K air wire probe & croc clip 2 metre stainless steel braided
133-177 K Smoke House probe 4 x 225mm, 90° 2m PTFE S/S Lead & MPK
830-950 ThermaQ Blue Flexible Tripod
830-880 Protective Silicone Boot
Kit option represents a significant saving on total price of items in kit when bought separately!
The new ThermaQ WiFi barbecue thermometers utilise the latest WiFi wireless technology. They are a battery powered, cost-effective, temperature monitoring system that accurately and remotely records the temperature. Each ThermaQ WiFi transmits the recorded data to a WiFi router connected to the internet which can be accessed and viewed from a PC, laptop or tablet anywhere in the world.
The ThermaQ WiFi has a range limited to the specification of the users WiFi router. Each thermometer has an intuitive LCD displaying temperature, WiFi connection status, max/min recorded temperatures, alarm status and battery life.
At programmable intervals, the thermometer will record temperature from both sensors, recording up to a maximum of 18000 readings (9000 from each sensor). Each ThermaQ WiFi incorporates a red and green LED. The flashing green LED indicates that the logger is active/logging and the flashing red LED indicates that your customised preset alarms have been exceeded. Each unit is supplied with a USB lead. ThermaData Studio software is available to download FREE from our website and is licence free, no ongoing or subscription charges.
---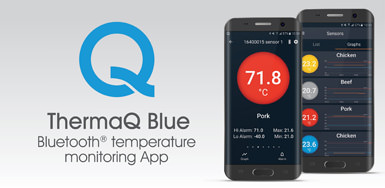 ThermaQ® App for Temperature Monitoring
Multiple temperature monitoring app for ETI Ltd Wireless thermometers.
The ETI Ltd ThermaQ App allows you to monitor multiple temperatures remotely when used with the ETI Ltd ThermaQ WiFi Barbecue thermometer.
The ETI ThermaQ temperature monitoring app is an invaluable tool in allowing you to monitor multiple temperatures simultaneously in industrial, scientific, food, cooking, sous vide and barbecue (BBQ) processes, turning your smartphone or tablet into a remote control temperature measurement data hub.
When used in cooking the ThermaQ app makes cooking processes easy to replicate time after time with its user friendly temperature monitoring functions. No matter if it's a large pork shoulder on the BBQ / Smoker or a Sunday Roast in a conventional kitchen oven, you're able to easily and quickly set a target temperature and ensure it's perfectly cooked – every time.
ThermaQ App' software reads multiple temperatures and provides simple-to-set high and low alarms. The App includes programmable alerts and notifications to prompt changes and also logs data from any probes to a graph. For further analysis the 'ThermaQ App' can export saved data as an Excel (.csv) file.
monitors/records thermocouple probe data via smartphone or tablet
customise temperature recording intervals
graph output allows monitoring of temperature trends
saves graphs and shares data via CSV file export (.csv) to Excel etc.
high & low alarm points settable for each temperature sensor
can monitor up to 4 thermometers (8 temperature sensors) simultaneously
range up to 50 metres depending on mobile device used