BBQ THERMOMETERS
Safety first. Ensure meat is cooked through before removing from the BBQ.
The days of cutting open a sausage or chicken drumstick to check it is done in the middle are over. With a Thermapen you can read the internal temperature of any meat while it's still on the BBQ and know with confidence when its cooked through. Burnt on the outside and pink on the inside was never a good look for a sausage.
Make over-done meat a thing of the past
When you're cooking over a high heat on a BBQ it's so easy to over-cook meat. Because nobody wants to serve under cooked meat to their BBQ guests the temptation is always to give meat five minutes more than it really needs.
A quality BBQ meat thermometer will ensure your meat is cooked perfectly every time and remains succulent and juicy.
Using a BBQ thermometer is the only reliable way of checking that your food is cooked to perfection and safe for you and your guests to eat.

Why is Thermapen the UK's best BBQ thermometer?
Easy to use – no confusing buttons or dials, you don't even have to remember to turn it on or off!
Beautifully designed and available in a wide range of colours
Quality engineering – made in the UK, it comes with a FREE traceable certificate of calibration. Thermapen is trusted for its accuracy by thousands of professional chefs worldwide
Super Fast – see the temperature reading in just 3 seconds (Over 50 % faster than traditional probes!)
Long battery life - up to 3000 hours with the Thermapen professional – that's a lot of BBQ's!
Hand held, wireless and extremely lightweight
Spashproof casing makes it easy to wipe clean.
How to use your BBQ thermometer
Thermapen BBQ thermometers are so easy to use. Get the accurate temperature of BBQ meat in just 3 seconds, while its still on the grill…
Retract the probe (the thermometer will switch on automatically) and place into the thickest part of the meat and wait until you have a reading
Refer to our BBQ meat temperature guide to ensure your meat is cooked to the perfect internal temperature
When you're finished, wipe clean with an antibacterial thermometer probe wipe
Rotate the probe back to the closed position (it will switch itself off automatically)
It's not just for your BBQ either
A cooking thermometer is the perfect addition to your kitchen, it is not just great for BBQ's, it's an all-purpose meat thermometer & baking thermometer capable of reading the internal temperature of pretty much anything you can make in the kitchen!

BBQ BRAVE
This Summer Thermapen is encouraging anxious cooks to be brave & take BBQ-ing by the horns...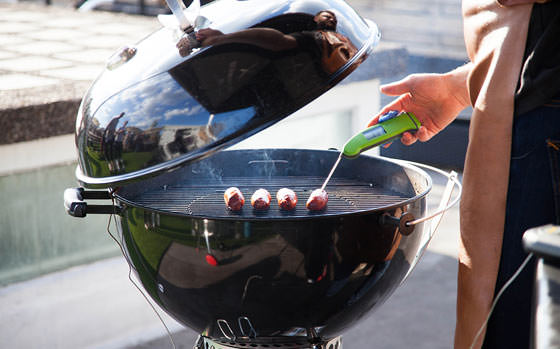 FIVE BBQ ESSENTIALS FOR THIS SUMMER
Check out all the essential tools that you'll need to fight the flames and achieve cooking perfection...